What's the eLogbook?
eLogbook is a Web 2.0 social software developed at the EPFL. It can simultaneously serve as activity management, social networking and resources sharing system. eLogbook also provides awareness services for its users in order to sustain collaboration & coordination.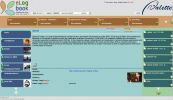 Any Problem?
FAQ : Not available for the moment
Comments : eLogbook users, developers and administrators interact in this forum.
Contact: If any further comments o problems please contact: sandy DOT elhelou AT elogbook DOT epfl DOT ch]
Web Service: Use eLogbook as a Web service! Here is a document eLogbook.wadl describing the provided Web Services
Open Source: Not available for the moment
Responsibles:
Denis Gillet
Sandy El Helou

Summary: collaborate, share & be aware!

How to use it: Web Portal, Web Service

License: GPL?

Components: Developed in Ruby on Rails.
External components:
MySQL5: Data base
Postfix 2.4.1: mail server for sending emails
Getmail 4.7.3: mail server for getting emails
Guest account:
yes
Last Updated ( Monday, 16 June 2008 )